Being assigned your first business trip means that the company you work for trusts you to represent them. This aspect should make you proud, but it should also make you anxious. To ensure that everything goes smoothly, you should bear in mind a series of tips that you can work on beforehand and that we show you below.
The interruption of the daily routine, the meetings with international representatives and some aspects that make up the daily life of the business traveler can end up generating stress if not managed properly. For this reason we provide you with keys to improve this first experience.
Define the objective of your business trip: Before managing the different aspects related to the transfer and accommodation, you should consider what you want to obtain from the visit. For example, you can go to a trade fair with the aim of increasing sales, making contacts, researching a market or analysing the competition. These objectives will determine the rest of your trip.
Find out about the necessary documentation and vaccinations: Another important point to consider before the trip is checking the necessary documents. If you are travelling outside the European Union, you will need a valid passport and you may even need a visa, which can take several weeks. Check with the country's embassy or consulate for the documents and information required to obtain a visa. If you have to drive, you should also apply for your international driving licence.
Familiarize yourself with the customs and traditions of the country you are going to: The first thing to do is to be familiar with the laws that apply in your destination country regarding such basic issues as driving and the entry of food and medicine.
In addition, you can always make the most of your trip if you know the customs and culture, especially if you have to negotiate with a local person. It would also be nice to learn a greeting in their language and to know whether it is mandatory or not to bring them a gift (in countries like Russia this is necessary).
It never hurts to do a little research on schedules, dress codes, correct forms of greeting or rules of protocol. This way, you will avoid putting your corduroy in or committing disrespect due to ignorance.
Arrange travel insurance: In case of any incident, it is always advisable to have a good insurance that offers you a wide coverage. Lost luggage and missed connections due to airline delays are some of the most common mishaps for business travellers. Keep in mind that in many countries there is no universal health coverage, so medical expenses can be high in the event of an illness or accident. It is always preferable to have a good insurance that protects you in complicated situations.
Book in advance: Make sure you book your flight ticket well in advance. Many times business trips cannot be planned months in advance, but make sure you get your tickets as soon as you know the exact date. And don't forget your points card, as airlines offer their users loyalty plans with discounts and the possibility of enjoying exclusive services.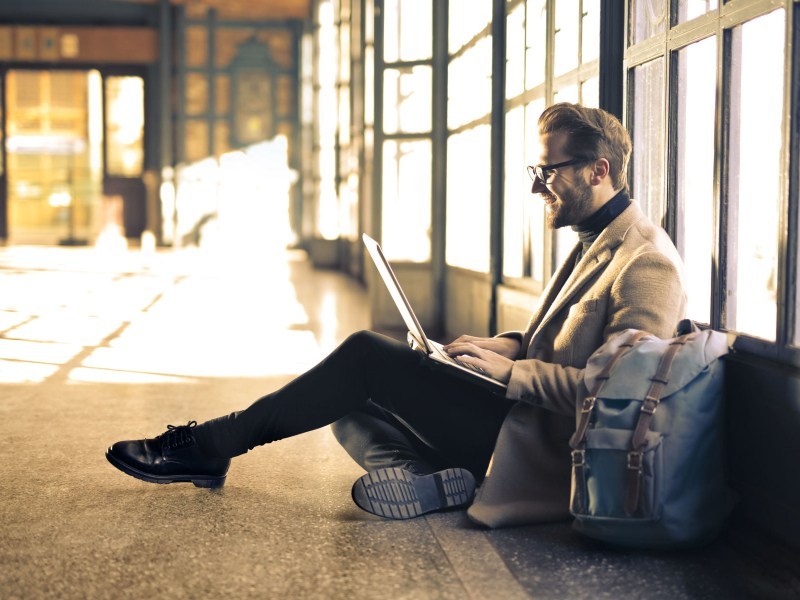 Limit your luggage: If you do not plan to travel for more than 3 or 4 days, limit yourself to carrying only your hand luggage. Try to pack intelligently, selecting formal but colour-neutral garments to combine with each other.
You can also save space by avoiding large items, as long as they are not necessary, such as hair straighteners, books or laptops. Remember to bring earplugs. They won't take up much space and can save you from a bad time.
When you need to check in, confirm the maximum weight you can carry, as this may vary depending on the company and the destination. If you are only wearing clothes, it is best to choose soft suitcases, as they tend to be lighter.
The number of items allowed as hand luggage also varies. However, make sure you always have your passport, mobile phone, address and name of the hotel (in countries like the United States you will be asked for it at customs), the phone number of the transport company that will take you from the airport to the hotel and some money in local currency.
Take an adapter with you: You will probably work from your laptop and your mobile will be your best friend. So if you're travelling abroad, find out which sockets are used in your destination country and buy an adapter if necessary. On the other hand, although roaming charges do not apply in the EU, they do apply outside the EU. Check with your phone company for the applicable rates. You can also turn off your roaming and connect to the hotel or airport Wi-Fi network.
Study your itinerary and plan wisely: Even if you have booked your transport in advance, study the itinerary you will take during your stay. Knowing the exact location of your accommodation and the meeting rooms you will need to attend will save you time when travelling.
Also find out about the means of transport available in the city, in case you have to choose an alternative to those previously scheduled. On the other hand, schedule your meetings and appointments with enough time in between, since travel time, traffic or any other setbacks may play against you.
Choose a practical hotel: Choosing the right hotel is also essential on a business trip. For example, if you're meeting clients, you should choose one that has areas where you can have a private conversation.
Location is another aspect to consider. Are you going to stay for several days? It's a good idea to have good communications so that you can get to meetings. For a short stay, it is best to be close to the airport. Will you have free time? A centrally located hotel will allow you to do some sightseeing.
Also, you should take into account that the category of hotels is not the same in other countries. Make sure that your accommodation has everything you need for a comfortable stay.
Remove the tickets from your wallet: Avoid the fear of losing any of your receipts by keeping your tickets in a separate envelope. Also, if your company has an application for the digitalization of expenses, you can forget about saving all the papers of the expenses made during the trip, since a photograph will be enough for your company to enter the value of the expense later.
Enjoy the trip: Reduce your stress level by taking breaks when your schedule allows, eat healthy and try to exercise. If you have time at the end of the day, you can take the opportunity to walk around and enjoy the biking and visiting the city's tourist attractions.
Stay rested: Many people think that sleeping while traveling is a waste of time, but you are on a business trip and you should keep your schedule in mind. Keep in mind the events scheduled in the morning, and the time you will have to get up. To be in top form during the meetings, it is convenient that you rest at least 8 hours, and if this means that you will have to stay in your room that night, do so.